PRODUCTION AND INSTALLATION
Interactive shooting gallery
The interactive laser shooting gallery with interesting moving targets is a new attraction. The shooting range is attractive for both children and adults. Team game and automatic hit counting are possible.
This is a profitable business in a small space.
The objective of the game is to score as many points as possible and make each target move.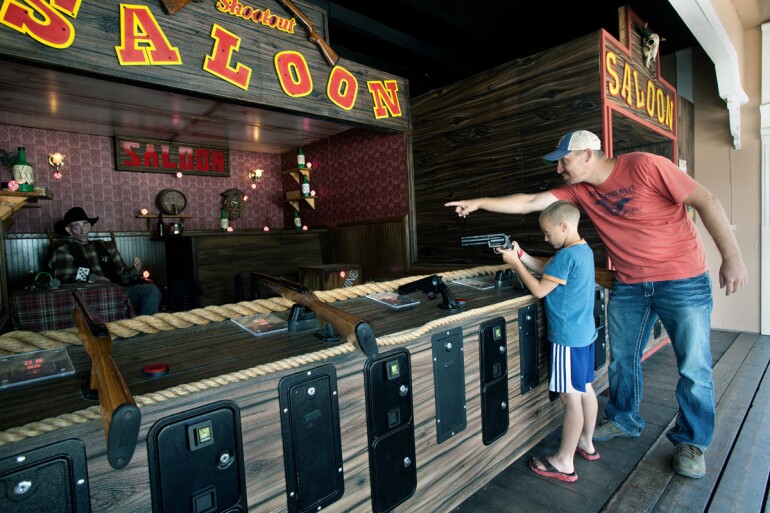 VARIOUS KINDS OF WEAPONS
Weapons in the shooting gallery can be diverse: from a space blaster to a magic stick. Each gun is equipped with a laser emitter (absolutely safe). At the moment of pulling the trigger, the weapon emits an impulse, and the target (if hit) receives this impulse. There is a weapon imitating real types of weapons and even a weapon having recoil (optional).
GAME MODES
Normal target shooting: if hit the target, the character/object performs the programmed scenario.
Team game: knock as many as possible targets and become a winner
Expert: limited time and shots for hitting certain targets; certain targets light up for a few seconds and go out if they are not hit with 3 attempts.
CHARACTERISTICS OF THE SHOOTING GALLERY

No consumables! No expenditure on service!
In an ordinary shooting gallery, bullets and periodic service of guns are needed. In our range, we use laser guns or magic wands. The shooting gallery uses exclusively industrial solutions that will run smoothly for many years.

The shooting gallery is completely autonomous and safe.
Visitors need to insert a token or card, select a game mode, and the shooting gallery will start on their own. Upon completion, the demo mode will start (when there are no visitors, certain characters are turned on in the shooting gallery, animation and music will draw the attention of visitors). The weapon is completely safe for visitors, no rebounds and goggles.

Interesting for a wide audience
There are various game modes in the shooting gallery: children's, middle, and expert, which will make the participants come back again. If necessary, it is possible to make a shooting gallery prize. Team play is possible, as well.

Each target is a character or object that, when hit, begins moving with sound and light effects. In our shooting gallery, brooms fly out to visitors, the roar of a dragon and inanimate objects of all kinds and sizes come to life if participants hit them.

Payment with tokens + range control
The game system can be equipped with a bill acceptor, a token receiver or a gamekeeper system (card), thereby reducing the cost of printing tickets and an animator. In the shooting gallery, a system of accounting for passes is maintained. Thanks to this, you can find out what hours the shooting gallery is most popular and optimize the work of a cash register employee.
Interactive Maze
Participants make their way through the maze. Their task is to shoot monsters with guns. The results show the leader.
Interactive Museum
Characters walk through a maze/museum and use magic sticks to make objects move.
Interested in?
Just leave us your contact details and we will send you more information.
Thanks
TECHNICAL SPECIFICATIONS:
Dimensions D, W, H .............................. 300x250x200 cm (optional)
Prefabricated structure .......... …………………………………….available
Body material ......................................................... metal/wood
Fire protection system …………………………………………………….. available
Motion sensor ................. ……………………………………….available
Sound accompaniment.............................................................. available
Power demand.......................................................................... 1 kW
Weight ........................................ ………………………………….500 kg
REQUIREMENTS FOR THE PREMISES
The dimensions of the room or island are 200 x 200 cm.
A flat floor all the way around
Power supply 1.5 kW
It is also possible to design constructions for individual sizes and customer requirements.
DELIVERY:
Delivery to the regions is carried out using transport companies
Pick-up is carried out from our warehouse.

INSTALLATION METHODS:
1. "Turnkey". (15-20%) of the cost of equipment
It is carried out by our qualified installation team (3 persons). Transfer (air/railway) and installation are calculated individually.
2. Self-assembly.
The customer is provided with detailed photos and video instructions.
3. Installation supervision
The expert provided by the company manages the team invited by the Customer (3 persons). Transfer (air/railway) and installation are calculated individually.